Kwest Tha Madd Lad is one of the funniest storyteller MC I ever heard spittin' on the mic. You should definitely check him out!
This Is My First Album (1996)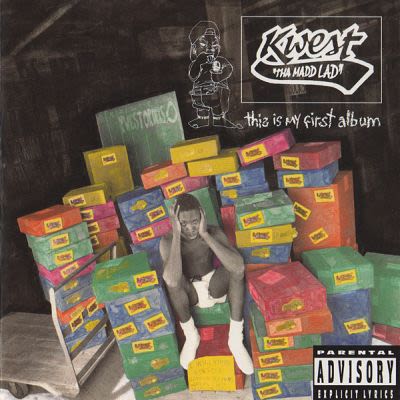 01. Everyone Always Said I Should Start My Album off With a Bang
02. 101 Things to Do While I'm With Your Girl
03. Disnexone
04. I Met My Baby at V.I.M.
05. Blase Blah (Off Tha Head)
06. Lubrication
07. What's the Reaction
08. Daddiez Home
09. Kwest's Theme Song
10. Skin Care
11. Day in the Life of My Asspipe
12. Butta-Few-Co
13. Disk and Dat
14. 125 Pennies for Your Thoughts
15. Herman's Head
16. Bludawnmeyesneekhuz (Through Tha Eyez of a Hood)
17. Damn
18. Say My Name Again
These Are My Unreleased Recordings (2007)
01. Kwest Gets His Rocks Off
02. A.M. / P.M.
03. What's The Reaction? (Remix)
04. I Ain't The Herb
05. Mr. All-a-That
06. Off The Head Part 1
07. Why Me?
08. Blase Blah (Remix)
09. Check It
10. The Flavatism
11. Anastasia
12. Off The Head Part 2
13. Tales From The Southside
14. Word Is Bond
15. Nastee Nigga
16. Anatomy Of An Ass Whippin'